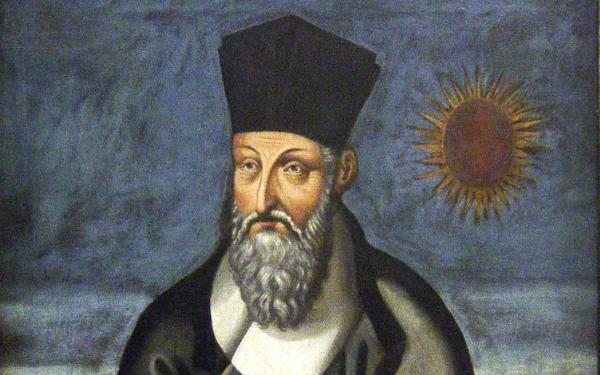 On the trail of Father Matteo Ricci
Are you ready to go on a journey? If you're headed to the area of Macerata, you should know this famous personality.
Among the historical figures born in Macerata who have distinguished themselves both for their political life and for their creative activity, there are some of them who have distinguished themselves for a long journey. One of them was able to make travelling an art. 6 October 1552, just remember this date. An important date for history. On that day the extraordinary astronomer and theologian Matteo Ricci was born. He was the first of 13 children and when he was 9, he started to study at the Jesuit school. Even though his father wanted him to become a successful attorney, Matteo Ricci decided to give up the study of law because of his passion for scientific disciplines like mathematics, astronomy and cartography – as well as the knowledge of classical writers which he inherited from Father Cristoforo Clavio.
However, the crucial year of his life was 1578, when Matteo Ricci started the activity of missionary and consequently a successful interaction with the East. On the 24 March of the that year he embarked in Lisbon and arrived in Goa on the 13 September. During the years in Goa Matteo Ricci studied theology and taught classics in boarding schools in Goa and in Cochin.
In 1580 he was appointed priest and his permanence in India concluded in 1582, when he was called back from Father Ruggeri in order to go to Macao and to reach China. The following year, in September, he arrived in China together with Ruggieri and they settled in Zhaoqing.
In 1584 he published the first Chinese globe and cooperated with Ruggeri to the first translation of catechism in Chinese. Even though Matteo Ricci wasn't the first to talk about "Catholicism" in the East, he was of course one of the most appreciated – even if he was a foreigner – in a society like the Chinese one where people were reluctant to the trust foreigners. And for this reason, although he hoped to reach Beijing, the Father from Macerata was forced to come back and to stop in Nanchang. There he published his first work in Chinese, "Il trattato sull'amicizia" (Essay on friendship), a masterwork which achieved great success. After that he was appointed superior of the Chinese mission. Thanks to the minister of rituals Wang Chung Ming he could reach Beijing, but later he decided to leave because of the Korean War.
In May 1600 Matteo Ricci decided to push his luck: he left again for Beijing, but he was arrested during his path from Ma Tang. So, he was held in the fortress of Tientsin until 24 January 1601. Later he was welcomed in the Forbidden City as European ambassador thank to an imperial decree.
He lived in Beijing for the rest of his life and always had the support of the emperor who appreciated his good nature and his intellectual abilities. Matteo Ricci died on the 11 May in Beijing.
At the moment of death of Matteo Ricci the emperor Wanli declared a day of national mourning and for the first time in the history of China a foreigner was buried in the imperial ground. His grave is in the cemetery of Zhalan in the Administrative Council of Beijing.
by Anisoara Hotea