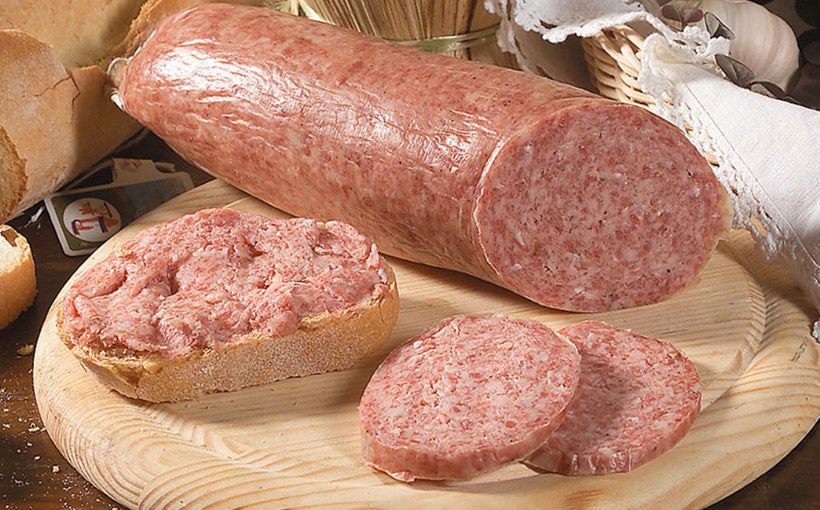 Today we would like to present one of the typical products of our area.
We could not avoid dedicating a special article for one of the most popular products of our land: the ciauscolo. First, you should know that its name undergoes some variations – ciaùscolo, ciavuscolo or ciabuscolo – depending on the areas and on the various interpretations. According to some, the origin dates back to the Roman word 'cibusculum' and to the cold cuts on the market during the Langobardic age. The same word refers to a 'little' 'food', but many interpretations have been given. For example, according to some scholars, ciabuscolo could even be the combination of three Latin words: close – broth – large intestine.
Originating in the south of our region, you can taste it in the provinces of Macerata, Ascoli, Fermo and also Ancona. We are talking about the special sausage of peasant origin. Its history and its diffusion are really intriguing: in fact, one of the first documents in which its name appears, is stored in Macerata, dates back to 1696 and refers to a price list of Belforte del Chienti.
In 2006 the ciauscolo obtained the PGI which stands for 'protected geographical indication'. After just three years the IGP was also recognised by Europe – even if the IGP is only valid for the one produced in the provinces of Ancona, Macerata and Ascoli Piceno.
How is it made? Each one needs a careful research because of the addition of flavours, but the raw material is always the same: a great mixture of pork meat. There is a mix of meat derived from the shoulder, the bacon, the ham, the oin and in large part from the lard and the addition of flavours such as white wine and pepper.
Its aging must last at least 15 days and it is pink in colour. If you're around in our region, you should absolutely try it; it's one of our typical products and we suggest you to accompany it with a good wine. You can spread it: this property is due to the mixture of the meat and to specific processing techniques. If you are in the mountainous area of Macerata or in the hinterland of Ascoli Piceno – where the percentage of fat inside the sausage is higher – you can taste it spread on a good bread or a good focaccia.
Period of the year recommended for tasting: ALWAYS.